Anyone who owns large plant equipment knows that there are a whole heap of maintenance items that need to be carried out regularly. But the little Ball Studs in your steering assembly often get overlooked amid the big ticket Engine, Tyre and Hydraulic maintenance. Yet a quick, relatively low cost 30 minute test can save days or weeks of downtime and repairs.
What you might not know is that your Ball Studs are recommended to be checked as often as twice a year. According to most Large Plant Equipment OEMs, Ball Studs need to be checked every 1000 hours or 6 months. Safety is a big concern but the risk of Ball Stud failure is far too easily overlooked by a lot of operators.
So what are we looking for?
Cracks. Cracks lead to failure. The risk of letting Cracks silently propagate in a critical component should not be underestimated. Ball studs are usually covered in grease and also a small cover. Even after taking these covers off and cleaning them up, cracks that can lead to catastrophic failure will be invisible to the naked eye. In fact the most common areas for these cracks are not even visible from this angle.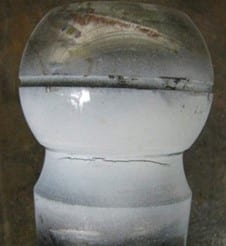 Using Ultrasonic Testing (UT), our Non Destructive Testing (NDT) technicians can identify cracks in the critical areas of the Ball Stud. This can usually be done in about 30 minutes, depending on the piece of equipment. One of the other advantages of UT is that the testing can be done without even removing the grease cap! Technicians simply complete the UT from the bottom of the Ball Stud.
Cracks are most often found in the neck of the Ball Stud. This is a concentration point of stress in the material due to the shape. Shown here is a crack in the neck of a Ball Stud which has been highlighted using Magnetic Particle Inspection (MPI). The crack was originally identified by UT while still installed.
Why all this testing?
A cracked Ball Stud is putting not only your equipment at risk but also your personnel. A catastrophic failure of a Ball Stud while the equipment is in operation could easily lead to the plant careening out of control and causing significant damage to equipment and your people. The best case scenario is significant downtime while you repair the steering assembly.
Steering components, including Ball Studs should be tested or replaced after any significant impacts involving the steering equipment. While replacement is quicker, to save throwing out the Ball Studs, Rapallo can test the Ball Stud involved in the impact to see if it is still fit for purpose to be used as a spare.
How can Rapallo Help?
Rapallo has NDT equipment and personnel in both Kalgoorlie and Perth. We have a range of NDT capabilities from UT for Ball Stud inspections through to Acoustic Emissions (AE) for condition monitoring.
Our work inspecting Ball Studs takes us to Mine Sites and plant yards all over Australia. Our NDT technicians are inducted in a myriad of sites around Western Australia so can quickly and easily perform these Inspections for you.
To save time and money we recommend our clients time these inspections when as many vehicles as possible are available for inspection back to back. This saves on Mobilisation costs and keeps your inspection periods aligned for next time.
For more information please call us on;
Perth – Ph: 08 6279 0900
Kalgoorlie – Ph: 08 9021 8399
Research
Ball Stud Inspection
Heavy earth moving machinery such as CAT® Mining Trucks contain ball studs that may require ultrasonic testing every 1000 hours to determine whether they are cracked or not. The risk of not performing this test is that if they break the operator loses steering control of a dump truck whilst in operation.
This readily preventable safety incident in addition to unplanned downtime and haul road/pit breakdown repairs, emphasizes the need for this test to be performed on time. ARI have qualified procedures with custom made equipment that enable us to confidently test the studs from the bottom of the stud where access to the top of the stud via the grease cap is not practicable.
ARI have certified NDT personnel to perform all your ball stud ultrasonic testing needs.
Heavy earth moving machinery such as Cat® Mining Trucks contain ball studs that require ultrasonic testing every 1000 hours to determine whether they are cracked or not. The risk of not performing this test is that if they break the operator loses steering control of a dump truck whilst in operation. This is a readily preventable safety incident and is a low cost test when compared to unplanned downtime and haul road/pit breakdown repairs. This emphasizes the need for this test to be performed on time. The ultrasonic testing normally only takes ~15 minutes per truck to perform and ARI have researched and developed ultrasonic testing techniques using custom test equipment to test from the bottom of the stud, removing the requirement to remove the grease caps. The results of these studies have been published at academic levels.
What is the current state of your truck ball studs? How do you know?
Heavy earth moving machinery such as Off Highway Dump Trucks contain ball studs which are components in the steering linkages vital to the safety of the vehicle. If these ball studs were to crack or break during operation and remain undetected, the failure could lead to loss of control of the vehicle causing costly heavy equipment damage and subsequent downtime, or at worst, serious injury or fatalities.
Incidents that could occur as a result of damaged ball studs may have been prevented with planned downtime for inspection. Ball Stud inspection can be done on the haul road, in the pit, in the workshop or in go-line parking.
Making time for inspection of this equipment is even more imperative as in the majority of cases cracks in Ball Studs are not easily visible. Even if closer visual inspection is carried out, it is often still not evident when cracking and breakage has occurred, evidence that a more in depth inspection is required.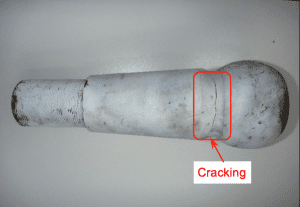 Cracking of a Truck Ball Stud
Ultrasonic Testing on Truck Ball Studs
It is usually recommended by the OEM that Ball Studs require Ultrasonic Testing every 1000 hours, or every 6 months, to determine whether or not they are fit for purpose.
When performing Ultrasonic Testing (UT) on a ball stud, an inspector will know immediately whether the ball stud has suffered from cracking or breakage internally while in service.
AME's procedure is a non-destructive straight beam examination using high frequency sound energy to conduct the examination and take measurements.
A key advantage of the non-destructive UT inspection is that it does not require any fitters to remove covers or bolts. Inspection takes roughly an hour per truck, although this is dependent on the type of truck.
Asset Management Engineers have qualified NDT Certified Technician and procedures with top of the line Ultrasonic Flaw Detection equipment for performing Ball Stud Inspections. Our proactive approach is to plan downtime and capture component damage before it results in a catastrophic failure, saving time, money and preventing injury.
Ultrasonic Testing
The non-destructive UT procedure is also frequently used in the detection of material thickness, weld discontinuities or defects, cracking on shafts and lamination checks for corrosion mapping.
Ultrasonic Testing Applications:
Weld Inspections
• Pipe welds
• Structural welds
• Rail Welds
• Machinery welds
Shaft Inspections
• Pulley / Conveyor Shaft
• Drive Shaft
• Swing Shaft
• Bolts and Pins
Heavy Machinery Structures /Components
• Steering Components
• Ball Stud
• Anchor Boss Structures
In-Service Inspections
• Ultrasonic Thickness Testing
• Lamination Check
Our NDT services are suitable for any and every stage of a project, from initiation through to ongoing maintenance and support. Read more about non-destructive testing or enquire now to speak to one of our staff on +61 8 9466 7444.